Talking Tom Hero Dash Full Mod Apk (Unlimited Money) v2.8.0.2244
Join Talking Tom on a heroic run to save his friends and stop The Rakoonz!
| | |
| --- | --- |
| Name | Talking Tom Hero Dash |
| Publisher | Outfit7 Limited |
| Genre | Action |
| Size | 126 |
| Version | 2.8.0.2244 |
| Update | September 28, 2021 |
| MOD | Unlimited Money |
| Content Rating | USK: Ages 6+ |
Install
Whats New
AQUATIC ACTION! Play the Score Madness event to unlock Blue Wave Angela and the brand new Deep Sea Tom! AND find three brand new missions: Ocean Hop, Risky Ropes and Sliding Walls.
Talking Tom Hero Dash is the latest mobile game in the Talking Tom Catseries from Outfit 7. The game has the same gameplay as other endless runners. In this article, we will introduce you to the features of this game and help you download a modified APK file that will give you tons of benefits for free. For example, unlimited money.
Game mechanics
Talking Tom Hero Dash is a typical endless runner game for mobile devices. If you have ever playedSubway Surfer , you will find that Talking Tom Hero Dash's gameplay is very similar. Your character will automatically run, and your task is to control him to avoid obstacles by swiping left, right or up. In races, in addition to obstacles, you need to pay attention to collecting coins. They will be very helpful when buying, upgrading, or unlocking new items.
---
In Talking Tom Hero Dash, there are "special obstacles" on your way – gangs of raccoons. They will attack when you get close. After capturing these raccoons, you can use them to open a special chest
---
There are 3 types of chests you can get: regular, super, and ultra. The amount of the reward will depend on the rarity of each type of chest.
Support Items
Items are indispensable elements in runners, Talking Tom: Hero Chase is no exception. In the races, you can pick up random items, they will give the hero unique abilities for a limited time period. Here is a list of the items you can find in this game:
---
Coin Magnet: Automatically sucks all coins around the character (effect for 10 seconds).

Coin Multiplier: Duplicate coins that the character has collected within 10 seconds.

Shield: Protect your character from any blow. The effect is available for 10 seconds.

Amplifier: Use the skill of the character to destroy all obstacles and enemies, and also grab all objects along the way.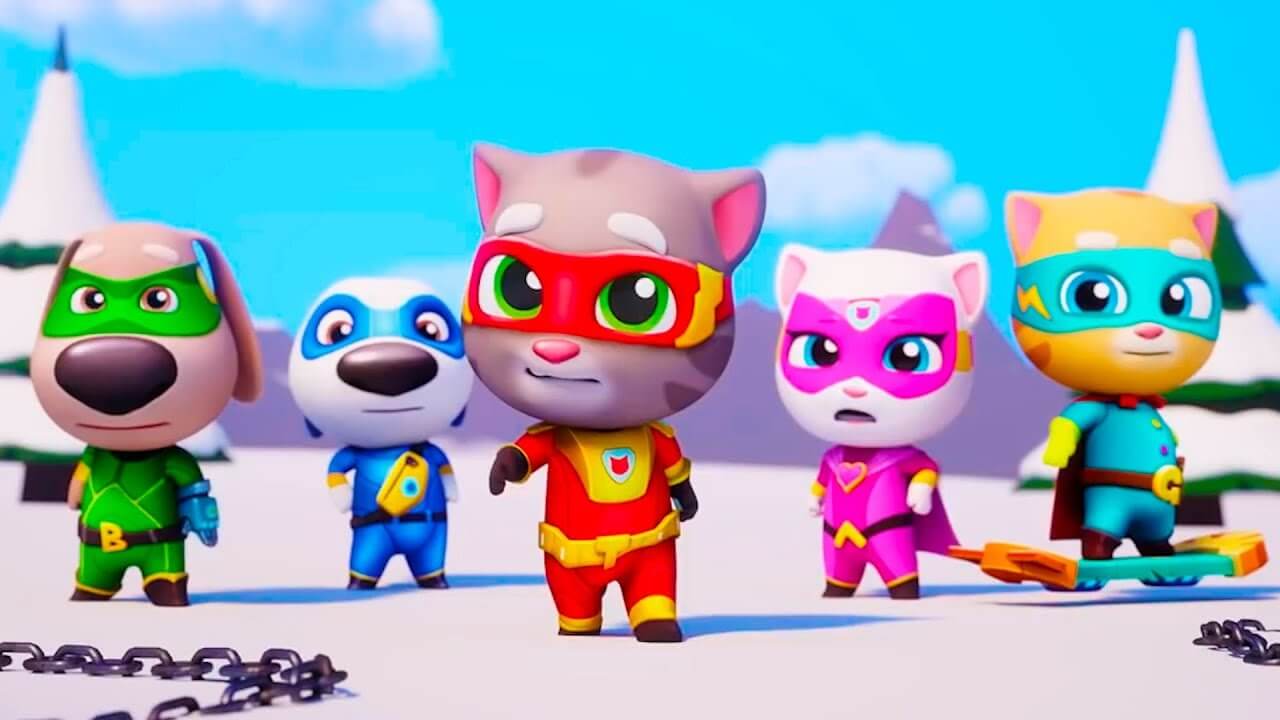 Key features of Talking Tom Hero Chase
Familiar Characters with Superpowers: The characters in the game have their own unique superpowers. By using these super powers, you will be able to win boss battles more easily.
Defeat the gang of raccoons:raccoons appear on the road and can attack you. In addition to collecting coins and avoiding obstacles, you can defeat Raccoon Gangs to receive special rewards.
Unlock Heroes:  At the beginning of the game, some playable characters are not available. You can only unlock them by winning matches with the raccoon boss.
Amazing Locations: There are many beautiful locations in the game that you can run through, such as skyscrapers, beaches, rainforests, etc. Do not forget to overcome all difficulties in order to discover new areas.
Rebuild the city: Tomw's city  and his friends are invaded by gangs of raccoons. Clear it by restoring your favorite spots with money and diamonds obtained during the game.
Unlock New Outfits: There are many beautiful outfits that you can unlock and equip your character.


---
Talking Tom Hero Dash is a fun game to take a short break from the hustle and bustle of behavior. The game is perfect for all ages, including kids . If you are a fan of Talking Tom, Talking Angela or Hank, this is definitely a great game not to be ignored.
Talking Tom Hero Dash is a continuation of a great runner in which you will help Tom the cat and his friends in the fight against a gang of raccoons.
Talking Tom Hero Chase is a great runner from Outfit7 Limited that continues the development of the universe of the famous cat and his friends. 
This time they will become superheroes that challenged a large gang of raccoons.
The latter have already done a lot of dirty tricks, and free
Download
---
Talking Tom Hero Dash Full Mod Apk (Unlimited Money) v2.8.0.2244
Install (126)