Pocket Love 1.0.1 Download For Android
Fall in love with your pocket home and the moments you'll share in it.
| | |
| --- | --- |
| Name | Pocket Love |
| Publisher | HyperBeard |
| Genre | Simulation |
| Size | 121M |
| Version | 1.0.1 |
| Update | February 10, 2022 |
| Content Rating | Rated for 3+ |
GET NOW
Whats New
Global release build! The game has been fully localized into 13 different languages. We hope you enjoy the Pocket Love experience :)
Pocket Love is a cute and relaxing simulation game from HyperBeard. Your characters have just moved into their sweet home, but it's completely empty. It's time to start decorating it. The game offers thousands of custom design options so you can turn an empty space into your dream home. You just need to buy something with in-game currency and place it in any free space.
When you have enough furniture, watch how the characters, including the pet , interact with different objects. Add significant moments from your life to a photo album to keep special memories. Expect new features soon, such as the ability to add more rooms to your home, visit neighbors, and more. Please note that this game is not for children and may contain some content not suitable for persons under 13 years of age.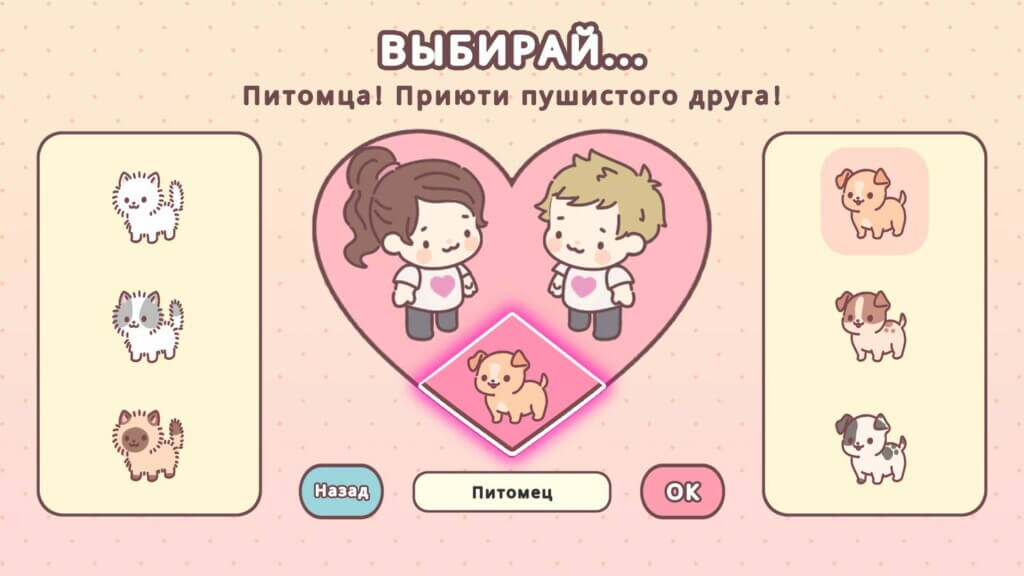 Create a family in the game Pocket Love / Love in miniature
According to the plot of "Pocket Love", a young married or friendly couple moves into a new cottage. The names and gender of the characters are chosen by the player. It can be spouses, lovers or just friends. After customizing the main character, you will be able to choose your soul mate by determining the color of the skin and the name. You have to manage this small family, including a cute pet.
Remember that animals need to be looked after. Each action is a fun mini-game: feed (the better the food, the more love), stroke, trim nails and bathe. Replenish your pet's bowl regularly and he will give his owners a lot of love in return. By the way, love in this game is a valuable resource that can be obtained not only from animals, but also from other family members.
furnish your home
After the move, you can set up the hall with suitcases and boxes. The game starts with putting things in order. Its goal is to create comfortable living conditions for all households. The simulator invites you to do everyday things: clean up, cook food , buy appliances and interior items. Do not forget to improve the interior and design of the premises and the territory near the house.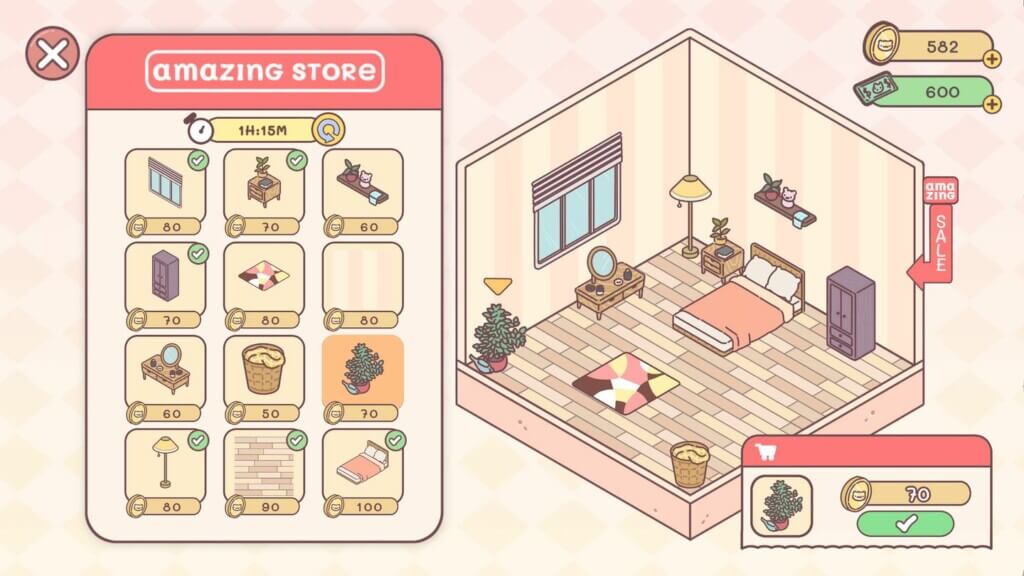 The starting environment in Pocket Love is pretty bad. There is nothing in the room except a sofa, a table and a TV cabinet. However, you can immediately unpack several pieces of furniture, including a sofa and an armchair. Spread them around the room. In the future, earn money and purchase new items to make your home cozy.
Give and receive love
My husband goes to work every day. It is very important not to let him starve. Collect delicious food in a bento box for your husband to grab a bite to eat at lunch. Combine different foods like onigiri, meatballs, pies, sandwiches, burgers, salads and more. Add first, second, appetizers, desserts. The better the bento, the more love you will receive in return. You can also take car
---
GET NOW Pocket Love
GET NOW (121M)
You are now ready to download Pocket Love for free. Here are some notes:
Please check our installation guide.
To check the CPU and GPU of Android device, please use CPU-Z app