Encodya 1.0.0 APK Download For Android
Explore the dark cyberpunk world of ENCODYA
Name
Encodya
Publisher
Genre
Size
51M
Version
1.0.0
Update
January 31, 2022
Content Rating
Rated for 12+
Get Now
Encodya is a futuristic point-and-click adventure game inspired by Blade Runner, Monkey Island, and Studio Ghibli animated films. This is a project of Chaosmonger Studio, a company founded at the beginning of the 21st century and specializing in documentary, animation and sci-fi films.
The plot in the game Encodya
The protagonist is Tina, a nine-year-old orphan living in a skyscraper rooftop orphanage in the dark metropolis of Neo-Berlin. In 2062, powerful corporations rule the city, and robots have entered human life everywhere. Tina and a large but clumsy robot, SAM-53, who protects her using trash and waste left by the other residents.
A girl's life takes an unexpected turn after an unexpected discovery. Tina's father left her with an important mission: to carry out a plan that will save the world. So, the main character, together with her mechanical guardian, goes on a journey that will take her through strange places full of strange robots and people.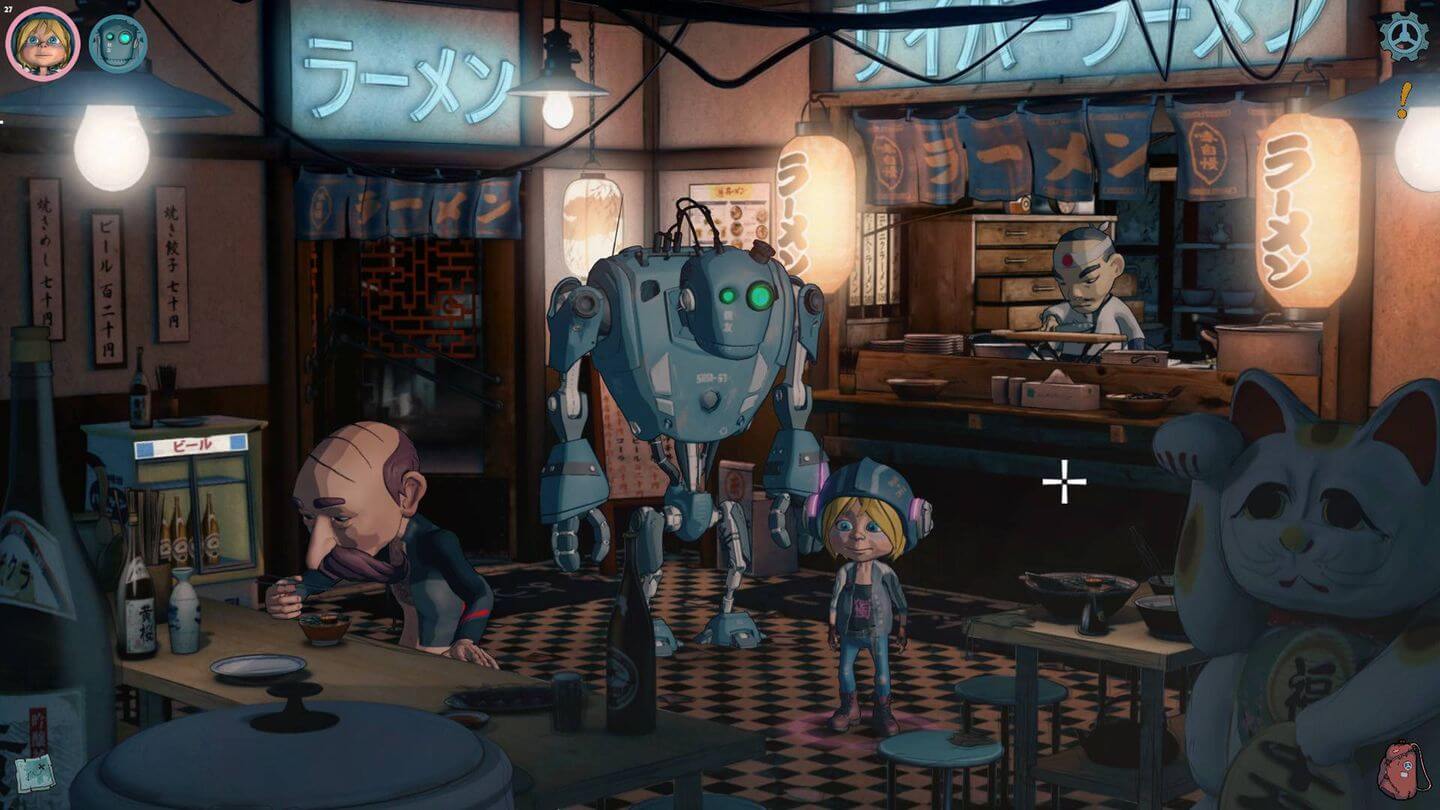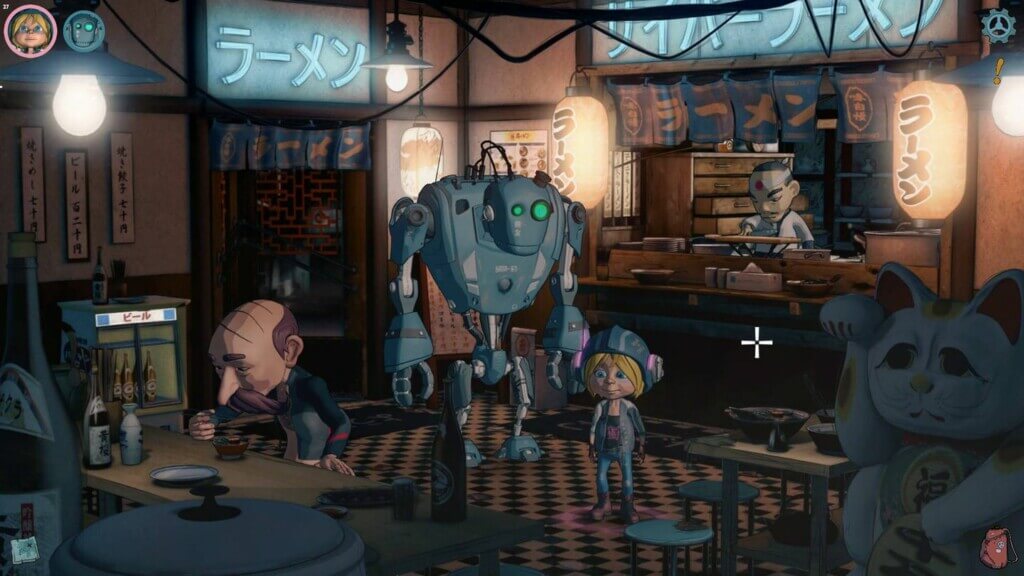 Unlike many cyberpunk games , Encodya takes a fresh approach to the theme. The game takes obvious inspiration from Monkey Island and the works of Studio Ghibli, eschewing the typical nihilistic and doomed atmosphere of the setting in favor of a lighter yet touching story.
Mechanics
Chaosmonger did not try to reinvent the wheel when developing the gameplay. Encodya  is a classic point and click adventure game. The gameplay is to communicate with more than 34 NPCs and explore more than 100 available locations in search of useful items. We can combine items in our inventory to get a new object and "use" them in the environment or NPCs. Some of the objects that we can interact with have no practical use, but give us interesting information about the game world or give us this or that joke.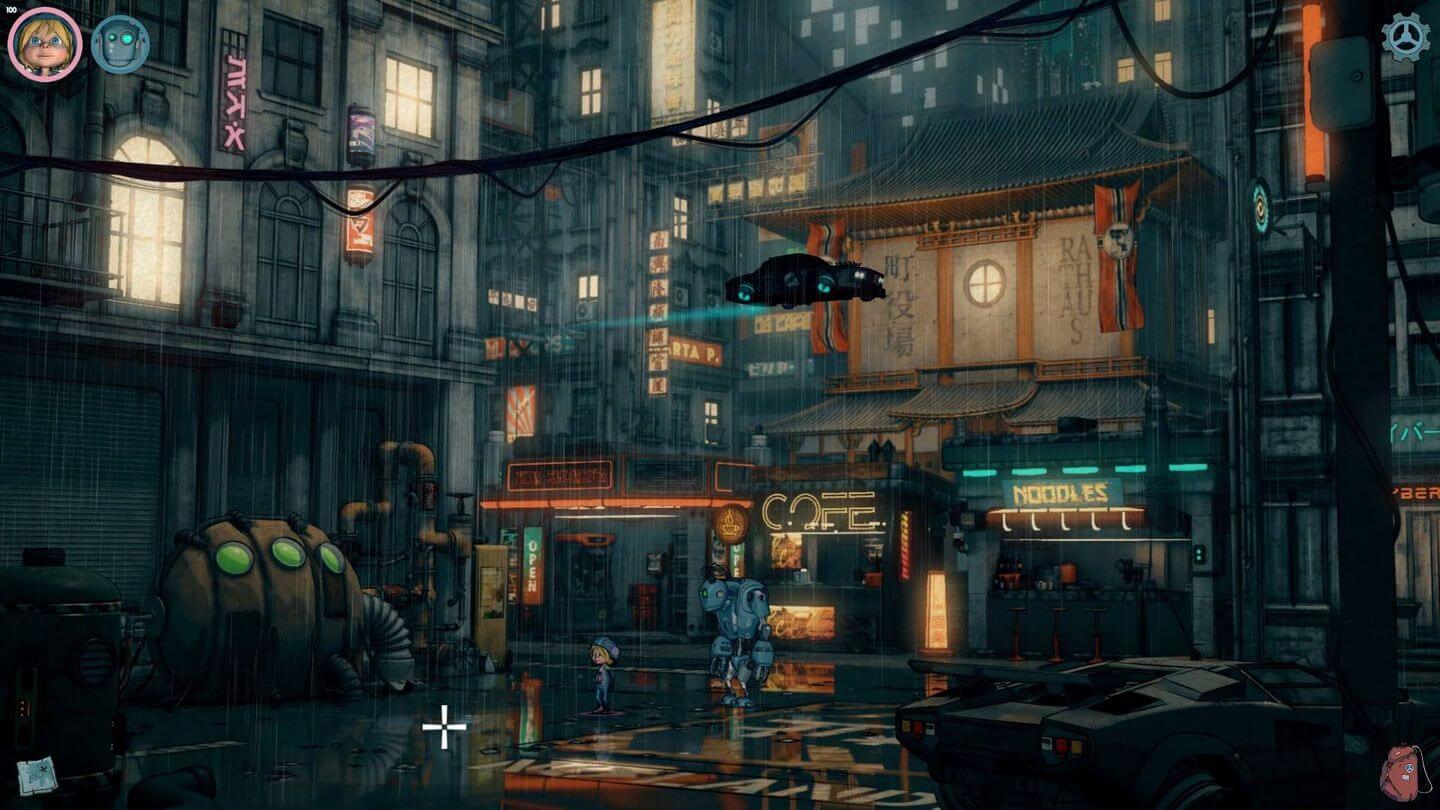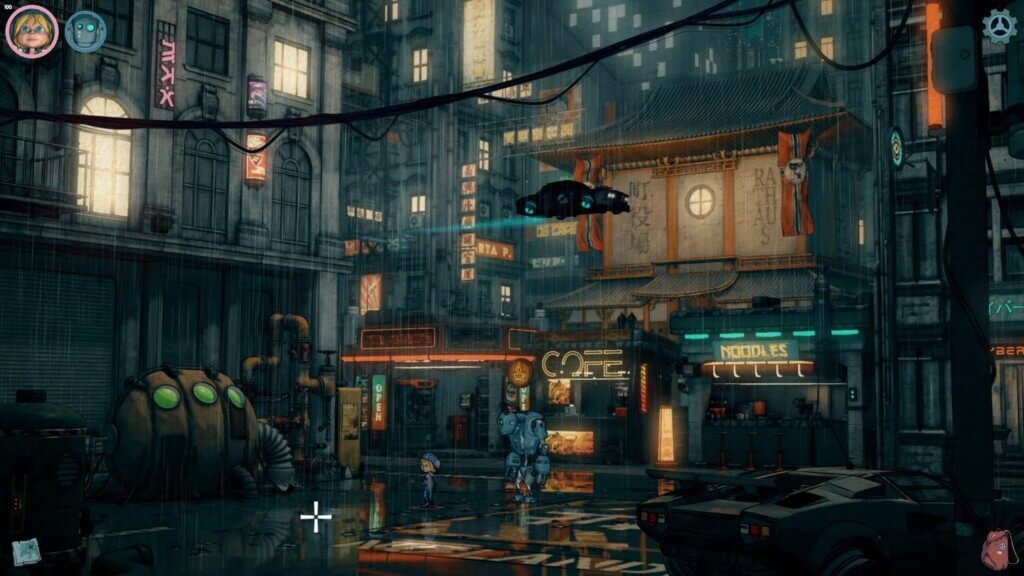 Encodya also includes two interesting features. As in the Sam and Max series of games, we have two characters at our disposal: Tina and SAM-53. From time to time, players will encounter a task that only one of them can complete, such as talking to a character who doesn't like humans or robots. The second new feature is a system of randomly generated puzzles, thanks to which the game can surprise even the next time you try.
Technical features in the game Encodya
Encodya developers have developed 2.5D graphics. In the game, we can see both 3D objects (such as character models) and 2D backgrounds. The developers took care of a professional soundtrack. During the game, we hear professional voice acting and ambient music.
Neo Berlin 2062. Tina – a nine-year-old orphan – lives with SAM-53 – her big clumsy robot guardian –in a rooftop makeshift shelter in Neo-Berlin, a dark megalopolis controlled by corporations. Tina is an urban jungle kid, who has learned to live alone, scavenging from city dumpsters and eking out a living from scraps. Her funny robot is always with her, programmed to protect her no matter what.
One day, the little girl discovers that her father left her an important mission: to finish his plan to save the world from grayness! Tina and SAM embark on an incredible adventure across different realities full of bizarre robotic creatures and grotesque human beings. Through puzzles and exciting dialogues, they'll find out the true meaning of being alive.
– Explore the dark cyberpunk world of ENCODYA in 2.5D with 2 playable characters.
– Over 34+ non-player characters bring the world of ENCODYA to life and provide a varied and exciting story.
– Your journey will take you to more than 100 locations where there is a lot to explore and discover.
– Special, randomly generated puzzles provide a unique gaming experience and present you with great challenges.
– The cinematic cutscenes and the futuristic art and sound design brings the story of ENCODYA alive.
– The original soundtrack, especially created for ENCODYA, makes the exciting, crackling atmosphere even more tangible.
Encodya 1.0.0 APK Download For Android
Get Now (51M)
You are now ready to download Encodya for free. Here are some notes:
Please read our MOD Info and installation instructions carefully for the game & app to work properly
Downloading via 3rd party software like IDM, and ADM (Direct link) is currently blocked for abuse reasons.